Name Plate Manufacturing Processes
Nameplates are not to be confused with name tags. The main difference between the two is the fact that nameplates are usually mounted on something, such as a wall, a car, or a sculpture, whereas name tags are usually affixed to a uniform or another piece of clothing. Also, name tags are rarely engraved. Likewise, nameplates are not the same thing as name plaques, which are larger than nameplates and are designed to communicate in-depth information.
Applications
Mostly, rather than using them to display extensive amounts of information, customers use nameplate products to convey information quickly and concisely.
Bits of information office/professional nameplates often offer include the contents of desks, the location of emergency exits, and directions in a building or outdoor setting. Some professional nameplates also include information on artwork and sculptures, such as authorships, titles, and origins.
Examples of information conveyed by personal nameplate products include the ownership of chests, suitcases, briefcases, trunks or space; and the name and title of an award recipient on a trophy, plaque, or memorial.
Examples of industrial nameplate information include labels, products information, machinery instructions, equipment warnings, etc.
Design
Production Process
There are a number of methods manufacturers can use to adorn nameplate products with their labels. These methods include laser engraving, mechanical engraving, screen printing, sub-surface printing, hot stamping, Chemical Etching, Metalphoto, Die Cutting, Dye Sublimation, Laser Cutting, Embossing, CNC Machining, Diamond Cutting, Injection Molding, Electroforming, and photo anodizing.
Laser engraving involves cutting into a nameplate with a laser beam. Manufacturers laser engrave nameplates when they're looking for extreme precision or intricacy. Laser engraving process is typically used as an "add-on" when variable data is required on a nameplate such as serial numbers., barcodes, QR codes, dates, and capacity information.  Laser marking can also be used to add logos and information to existing metal components such as knobs, caps, fixtures, panels, name badges, and tools.
Mechanical engraving involves cutting into a nameplate and creating labels with a rotary tool.
Screen printing is a little more involved; the process consists of applying a photogenic stencil to a piece of tightly stretched, porous polyester or another mesh, through which enamel colors are forced. The stencil blocks the ink from touching the mesh where it sits. Screen printing process uses thermoset or an epoxy paint system to ensure durable adhesion to metals, plastics, and vinyl.  Our Pantone color match system can mirror most colors in gloss/matte finish.  This process is ideal for multi-colored designs & logos.  Screen printed products are not recommended in environments with extreme exposure to chemicals or abrasives.
Sub-surface printing is a form of printing that manufacturers do below the surface or on the back of a substrate. They use this method to create nameplate labels that need protection against harsh environmental conditions, such as UV exposure, salt air, and abrasion-causing elements and solvents.
Hot stamping is a dry printing method during which manufacturers press dry paint or foil into a metal or plastic substrate. The process is aided by high heat and a die, made of metal or rubber. The die presses down on the product and the paint or foil, which is placed in between them. Manufacturers often use hot stamping to impress nameplates with serial numbers.
Chemical etching is a way that manufacturers engrave plates in order to make metal nameplates, like stainless steel, aluminum, or brass nameplates. To start the process, manufacturers first shield certain areas of the nameplate material with an acid resistant material, then expose the uncovered areas to a corrosive material. The uncovered areas of the metal nameplate correspond to a stencil design. The corrosive material engraves words onto the metal, per the design of the stencil, without harming the covered areas.
Embossing is a bit different from the other methods; it involves applying heat and pressure to metal plate as it squeezes through both a female and a male roller die. Each die is designed with the desired pattern for that particular nameplate.
Photo anodizing uses specialized aluminum sheets to print photo-quality images and words.
Metalphoto, commonly referred to as photosensitive aluminum, uses a proprietary process which copies an image directly into the open pores of anodized aluminum.  The metal is then exposed to a salt nickel bath (similar to dye & seal process) which seals the image below the surface of the hardened aluminum.
Die cutting process is used to generate products in large quantities of the same shape.  Die-cut plates can be manufactured in various shapes.
Dye sublimation process creates products in complete color for a true photo quality finish.  This heat activated process allows for full color images to be transferred directly onto metal sheets.   Dye sublimation is ideal for nameplates, business cards, photos, plaques, seating and locker tags.
Laser cutting is an ideal alternative to expensive stamping tools and projects where custom shapes and hole patterns are required.  DNPE uses high-powered CO2 lasers to cut uncommon shapes from metals ranging from foils to thick steel.
CNC Machining process utilizes the "drop-in" tooling method to complete nameplates and panels in a wide range of shapes and sizes.  We produce quality products that maintain tight dimensional tolerance by using our high-speed die cutting machine.  Countersunk holes, threaded holes, and Pem studs can also be added to your tags and panels.
Electroforming is a highly specialized metal forming process for metal fabrication.  Electroforming is very effective when requirements call for extreme precision, tight tolerances, or complexity in design.
Diamond cutting process gives products crisp detail to add high impact to your brand.  This technique can be used to accent colors and logos on nameplates.
Injection molding process is commonly used for the fabrication of plastic parts.  Products that vary greatly in their size, complexity, and application can be manufactured by injection molding process.
Materials
Nameplates may be made from many materials, and the prevalence of each material varies by industry. For example, nameplates made for the office tend to be made from plastic materials, wooden materials, or metals like aluminum and aluminum alloys, stainless steel, brass, zinc, or copper. Other materials that nameplate manufacturers may use include rigid PVC, vinyls, foils, Mylar®, MetalPhoto®, and more.
Considerations and Customization
When they make their products, nameplate manufacturers think about what you would like the nameplate to say, how you would like the nameplate to look, where you plan on putting the nameplate, how many nameplates you would like, and any applicable standard requirements.
Based on those considerations, nameplate suppliers can provide you with virtually any nameplate design. Design extends to things like name plate size, nameplate capacity, nameplate material, nameplate word font, nameplate mounting style, and nameplate weight. Custom nameplates are easy; in fact, all nameplates, by virtue of their purpose, display some level of customization, whether that be individualized messages, labels, or instructions.
Types
Office nameplates announce the contents and occupants of offices and desks. They typically only have one or two lines of information; usually, this information is a name and a job title. Types of office name plates include desk name plates, wall name plates, and door nameplates. All of these nameplates sit or are attached to the surfaces in their respective names.
Office signs are larger office nameplates , used to identify building spaces (waiting room signs, restroom signs, etc.), to offer instructions to staff/customers/visitors, or to give directions. Typically, office signs are attached to walls, not propped up on desks. Note: office signs affixed to doors may be called door signs or door name plates.
Industrial nameplates are those nameplates placed around industrial facilities to label equipment and specific work pieces. Industrial work pieces mounted on equipment are often also called equipment nameplates. Industrial nameplates are usually made out of durable materials like stainless steel. Stainless steel nameplates are especially desirable in those industrial applications that take place outside or in demanding settings.
Graphic overlay nameplates are name plates that feature embossing, transparent window displays, and selective texturing. Generally, they are resistant to both corrosion and chemicals. Most often, customers purchase them to place them over, or overlay, LEDS, windows, switches, or control panels.
Digital nameplates contain more than just visual information. Rather, they contain information that links to digital tools, such as customer support, product pages, etc. Examples of this information include serial nugs, tags, and a variety of alphanumeric characters. To access this information, users must simply scan the nameplate. Digital nameplates increase the usefulness of product nameplates without requiring manufacturers to physically add information onto the nameplate. Most often, manufacturers chemically engrave digital nameplates. This is because engraved information remains legible and scannable for a longer about of time.
Number plates are plastic or metal nameplates that help identify vehicles. You probably know them as license plates.
Gold nameplates, the most expensive name plates of all, are used both in the office and in institutions. For example, they are likely to be mounted on paintings, display cases, plaques and doors in museums, universities, cathedrals, and the offices of highly lucrative businesses.
Wooden name plates are, as one of would assume, name plates made from wood. Most often, people purchase wooden nameplates to hang on the door of a child's playroom or bedroom. The nameplates may say the child's name, or they come in whimsical shapes, such as animal shapes. Wooden nameplates are best for these applications because wood is safer than other nameplate materials, it is less expensive to produce, and children or parents can paint them. Those nameplates that fall into another category, personal nameplates, are more often made from wood; wood is safer and less expensive to produce for their largest market, children.
Bronze nameplates are usually used as office nameplates on desks of office higher-ups. They are among the most expensive office nameplate varieties.
Aluminum nameplates are among the least expensive nameplates available. As such, aluminum nameplates are much more widely used than many other types of nameplates. They are also popular because aluminum is lightweight and corrosion resistant. Aluminum nameplates are found on consumer products, like lawn mowers and washing machines, where they offer instructions for operations and identify risks of use; they are also found in large buildings, where they identify offices.
Plastic nameplates are still less expensive than aluminum nameplates, and also demand the least amount of maintenance.
Brass nameplates are designed to adorn something outside, such as building fronts or outdoor statues. Manufacturers like to use brass for tasks like these because the metal is so aesthetically pleasing. They are often made from brass that has been coated with a layer of weather-resistant chemicals. This treatment keeps the brass from tarnishing.
Advantages
Nameplates offer those who purchase them a wide range of benefits. First, of course, they help identify people, offices, work areas, and equipment. Because of this, they make workplaces more organized, more efficient, and easier to navigate. In addition, they provide people with a very tangible sense of belonging at their workplace.
Accessories
Nameplate manufacturers offer a number of useful accessories to go along with their main products. Primarily, these accessories have to do with physical support and adhesion of the nameplate. Examples include wall mount adhesives, wall hanging chains, pins, hooks, hangers, nameplate frames, nameplate holders, snap on nameplate label holders, and nameplate inserts.
Installation
Users can mount nameplates using one of three methods; they can fasten them, they can hold them with adhesives, or they can support them with another structure.
Fastening, though pretty simple, is still the most involved process. To fasten nameplates in place, users must drill the nameplates with holes, mount them where they would like them to go, and then insert into the holes screws, pins, nails, or another fastener type. Note that some nameplates may come with pre-drilled holes.
Adhesive coatings are available for purchase at the local hardware store, or customers can purchase them directly from their nameplate supplier. The important thing is to choose the adhesive with capabilities that match the environment in which nameplate will reside.
Nameplate supports are most often plastic, wooden, or metal stands. These are most useful with heavy office and desk nameplates.
Standards
Nameplate standards are not generally as strict or as expansive as the standards upheld for the vast majority of industrial items. If you run into standard requirements for nameplates, it will likely be for industrial nameplates or equipment nameplates only. Examples of standards those may need to meet include those related to environmental tolerances and print life. Nameplates that typically have more stringent requirements include those mounted on equipment like centrifugal pumps, generators, and electric motors.
Things to Consider
If you are in the market for a quality nameplate, or several quality name plates, you need to work with an experienced manufacturer. The right manufacturer will make sure your name plates are well made and professional (unless you are commissioning name tags for children, in which case, they will make them as whimsical as you'd like). They will also make sure all the information on them is accurate, and they will deliver them on time.
Find a trustworthy nameplate manufacturer by checking out those we have detailed on this page. You will find individual profiles wedged in between our info paragraphs. Before looking them over, we recommend you take some time to put together a specifications list. This should cover all aspects of your application, from your request volume to your budget. This this will not only focus your search, but it will also focus your conversations after you've identified your potential suppliers.
There are a wide variety of technologies that are used to print stuff. The main industrial printing processes are:
Offset lithography
Flexography
Digital printing: inkjet & xerography
Gravure
Screen printing
Additional printing techniques were developed for very specific applications. These include flock printing, letterpress, intaglio, pad printing, and thermography.
Why a certain job is better printed using one of these processes mentioned can be read on this page about choosing a printing process.
Offset
In offset lithography a printing plate, which is most often made from aluminum, contains an image of the content that needs to be printed. When the plate is inked, only this image part holds ink. That inked image is subsequently transferred (or offset) from the plate to a rubber blanket and then to the printing surface. The process can be used to print on paper, cardboard, plastic or other materials, but these have to have a flat surface.
Below is a picture of a 4 color sheetfed printing press. At the far end is the intake where individual sheets of paper are automatically fed into the press. The 4 towers or printing units each print one color, typically black get printed first, followed by cyan, magenta and yellow. The stack of printed sheets is visible on the front of the machine, underneath the press console & monitor which the press operator uses to control the press.
For higher volume work offset presses use rolls of paper. The picture below shows such a much larger web press. It is so fast that the printed paper needs to be force dried. The black unit at the end of the press is an oven.
Offset is nowadays the most widely used printing technique for an extensive range of products such as books, newspapers, stationery, corrugated board, posters, etc.
There is a trend that printing promotional material is gradually migrating to digital printing while some packaging printing is moving to flexo.
You can find more information on the page dedicated to offset printing.
Flexo
In flexography the content that needs to be printed is on a relief of a printing plate, which is made from rubber. This plate is inked and that inked image is subsequently transferred to the printing surface.  The process can be used to print on paper as well as plastics, metals, cellophane and other materials. Flexo is mainly used for packaging and labels and to a lesser extent also for newspapers.
Some packaging printing is moving from flexo to digital.
Digital printing
Digital printing can be done in various ways. Two technologies dominate the industry:
Inkjet – In an inkjet printer the image that needs to be printed is created by small droplets of ink that are propelled from the nozzles of one or more print heads. Inkjet devices can print on a wide range of substrates such as paper, plastic, canvas or even doors and floor tiles. Inkjet printing is used a lot for posters and signage. It is also economical for short run publications such as photo books or small runs of books. In-line inkjet printers are sometimes combined with other types of presses to print variable data, such as the mailing addresses on direct mail pieces.  The press shown below is the HP PageWide C500, meant for printing on corrugated board.

Xerography – In xerographic printers, such as laser printers, the image that needs to be printed is formed by selectively applying a charge to a metal cylinder called a drum. The electrical charge is used to attract toner particles. These particles are transferred to the media that is being printed on. To make sure the toner is fixed properly, the substrate passes through a fuser that melts the toner into the medium. Laser printers are not only used in offices but also for small run printing of books, brochures and other types of document. These printers are also used for transactional printing (bills, bank documents, etc) and direct mail.
In 2009 both techniques jointly accounted for around 15% of the total volume of print.
Digital printing is increasingly utilized for print jobs that were previously printing using offset, flexo or screen printing.
In short run small format (A3 size) printing, digital is taking over from offset for both color and B&W printing. Quick printers and copy shops print digitally on presses from vendors like Xerox, HP, Canon, and Konica Minolta.
Labels are also increasingly being printed digitally.
Billboard and point-of-sale or point-of-purchase jobs are being done by wide-format inkjet devices.
There is a wide range of small format printers used to print on phone cases, mugs and other products.
In book printing publishing companies start to rely more on print-on-demand. The Espresso Book Machine pictured below is well suited for that job.
There are a number of other digital printing processes that are geared towards specific niche markets:
Dye-sublimation is a printing process in which heat is used to transfer a dye onto the substrate. Dye-sub printers are mainly used for printing on textiles, for proofing and for producing photographic prints. Some printers can print on a variety of materials such as paper, plastic, and fabric.
In the direct thermal printing process heat is used to change the color of a special coating that has been applied to paper. This process is used in cash registers but also to add markings, such as serial numbers, to products. For this a transparent ink is used that changes color when a laser applies heat to it.
In the thermal ink transfer printing process heat is used to melt print off a ribbon and onto the substrate. It is used in some proofing devices but seems to be gradually disappearing off the market.
Rotogravure
Also known as rotogravure, this is a technique in which an image is engraved into a printing cylinder. That cylinder is inked and this ink subsequently transfers to the paper.  Rotogravure is used for high volume work such as newspapers,  magazines, and packaging.
Rotogravure is gradually losing market share to offset for publication printing and to flexo for packaging applications.
Screen printing
As its name implies, this printing technique relies on a screen, which is a woven piece of fabric. Certain areas of this mesh are coated with a non-permeable material. In the remaining open spaces ink can be pushed through the mesh onto a substrate. The advantage of screen printing is that the surface of the recipient does not have to be flat and that the ink can adhere to a wide range of materials, such as paper, textiles, glass, ceramics, wood, and metal.
The image below shows a screen printing press that is used to print t-shirts.
Increasingly screen printing is being replaced by digital printing.
Additional printing processes

Letterpress – Once a dominant printing technique, letterpress is now used for business cards, wedding invitations,…
Flocking – used to add a (colored) velvet-like texture to paper, textiles, etc.
Pad printing – used to print on 3-dimensional surfaces.
Intaglio – nowadays mainly used for used stamps and paper currency.
Thermography – This is more of a finishing process than an actual printing process. It produces raised lettering on the printed side of the paper and is used for wedding invitations, letterheads, business cards,…
Printed products
The chart below is from a presentation by Frank Romano, professor at the Rochester Institute of Technology. It lists the various applications of industrial printing and dates from 2008.
It contains the following product categories (counter clockwise from the bottom):
AdPromo, the largest category, includes brochures, flyers, booklets as well as signage and point-of-purchase.
The packaging category includes labels, as well as flexible and folding cartons. Printing on corrugated board  is also part of the packaging segment.
Financial includes annual and quarterly reports.
Letterhead, envelopes, business cards and note pads are examples of stationery.
The forms category includes not just carbon, carbon-less and multi-part forms but also internal documents such as reports and handouts.
More exotic printed products are grouped in the miscellaneous category. This includes wall paper, wrapping paper, greeting cards, calendars and posters.
Periodicals include magazines, journals and newsletters.
Newspapers are typically dailies or weeklies.
The books segment contains mass market bound and paperback books as well as professional publication and college & university press.
Catalogs are printed for both the consumer and business market.
The best-know type of directories are the white and yellow pages. They dwarf the market for trade and organizational directories.
The technical documents category includes manuals, guides and instructions.
Direct mail consists of post cards, self-mailers, booklets and letter mail.
It is impossible to create a complete list of all of the different types of printed products or products that are printed on. The list below gives a brief overview of some of the more generic types of products:
Bags
Binders
Booklets
Books – hard cover books, soft cover books, paperbacks, albums,…
Bookmarks
Boxes – STE boxes, folding cartons,…
Brochures
Calenders
Catalogs
Currency or banknotes
Decals
Direct mail
Directories & Yellow pages
Displays
Jackets – book jackets, CD jackets,
Cards – post cards, greeting cards, business cards, appointment cards, credit cards, promo cards, scratch cards, reply cards, vouchers, tent cards, invitation cards,…
Flags
Folders – promotional folders, corporate folders,…
Forms
Fridge Magnets
Inserts
Invitations
Labels
Magazines & Journals
Manuals & guides
Posters
Forms
Leaflets
Mailings
Menus
Newsletters: dailies, weeklies, national, regional, local, tabloid, broadsheet, berliner,…
Point-of-purchase (POS)
Point-of-sale (POP)
Posters – adshels, abribus,…
Reports & annuals
Sleeves
Stationery – letterheads, envelopes, notepads
Stickers
Tags – price tags, garment tags,…
Wall paper
Wrapping paper
Wobblers
Printing market
Printing companies can be categorized based on the type of customers they serve, the types of jobs they print and the equipment they use. The printing market can be split in segments:
Commercial printing – Commercial printers typically print a wide range of products, from stationery to brochures, catalogs and magazines. Some companies focus on specific markets, such as quick printers, forms printers, wide format printers, direct mail printers and companies doing security printing. Web-to-print printers are companies whose entire print volume is generated by selling print products online. In-plants are printing facilities that are part of a company or institution and only produce print for their own employer.
Publication printing – Newspaper printers, book printers, magazine printers and directory printers target the high volume work in a specific market. Many of these companies are both publisher and printer.
Packaging printing – Packaging printers specialize in printing all kinds of packaging such as boxes, cartons, bags, cans, tags and labels. Many companies specialize in printing on specific substrates such as metal (e.g. drinking cans) or plastics (e.g. in-mould printing)
Industrial printing – When printing is only one of the steps in a manufacturing process, it fits in this category.  This includes printing on textiles, panels, floor tiles or wallpaper. Decorative or functional printing on products like watches, dashboards or cooktops is also in this category. Printable electronics is seen as a major new field.
Home and office printing – Both inkjet and laser printers are used for printing personal and business documents. Other machines such as thermal and dot matrix printers are still used in some places.
Finishing refers to all the activities that are performed on printed material after printing. This includes binding, the fastening of individual sheets together, and decorative processes such as die-stamping, embossing or laminating.
Finishing can be:
an in-line process – which means that units attached to the end of the printing press perform the finishing operations. This is typically the case with web presses as well as many digital presses.
an off-line process – which means that printing and finishing are completely separate processes.
The overview below list major finishing processes.
Bindery processes
Cutting and trimming
Paper stock may need to be cut or trimmed more than once during the production of a job:
Sometimes the paper that is in stock is too big and needs to be trimmed prior to printing a job.
When multiple signatures are combined on one press sheet, those sheets need to be cut after printing.
Sheets may need to be trimmed to fit folding machines or other bindery equipment.
After folding and binding the unbound sides need to be trimmed. For books, this is often done with a three-knife cutter, which has three blades to simultaneously trim three sides.
Cutting and trimming are usually done using a guillotine cutter. A stack of sheets is placed on the bed of the cutter and the angled stainless steel blade cuts through it at the desired position. All the stacks are subsequently often placed in a jogger, a vibrating table that squares the stacks of sheets.
Folding
For magazines, books,… large press sheets need to be folded into signatures. This involves a series of right-angle folds in which the sheet is folded multiple times. Folding a sheet once makes four pages, two right-angle folds make eight pages,…
Other types of work require parallel folds in which two or more folds which are oriented in the same direction are made in a sheet. This is typically done for leaflets or brochures. Some common types of folds are:
the half fold
the accordion fold
the gatefold
the French fold
the letter fold
There are two common types of folding machines: the knife folder, also known as a right-angle folder, and the buckle folder. In general knife folders are used for heavier stocks, while buckle folders are used for lighter paper types.
How to fold a brochure or flyer
There are many ways a printed piece of paper can be folded. Below is a list of the most common ways in which brochures, leaflets, pamphlets or folders that are printed on a single page can be folded.
Once folded, each side or section of the printed piece is called a panel. The names of the folding schemes are not standardized, the list below shows the most common naming convention.
One fold – 4 panels
Two folds – 6 panels

Tri-fold
Z fold
Gate fold
French fold

Three folds – 8 panels

Double gate fold
Double parallel fold
Roll fold
Accordion fold
The recommendations on this page are fairly general: if you are a designer it is best to consult with your printer before designing a folded document. Many printing companies offer downloadable templates on their website.
Half fold or single fold
As the name implies, simply fold the page in half. Sometimes this is also called a gatefold, for example in the music industry where vinyl LP albums were often packaged in a gatefold cover.
The front cover (1) is the right panel of the first page and the back cover (2) is the left panel of the first page. Both panels have the same width.
Tri-fold or letter fold
Trifolds are commonly used for marketing events, services or products. The panels fold in on each other to form the finished size. The three panels do not have the same width since you need to compensate for the thickness of the paper in the fold and tolerances of the folding machine. For an 8.5″ x 11″ tri‑fold brochure or pamphlet, one approach is to make part 3 which folds to the inside 3.625″ wide while the 2 other panels are 3.688″ wide. Some printers recommend making panel 2 a bit less wide than panel 1. For users of the metric system, for example, an A4 page which is 297mm wide is often folded like this: panel 3 is 98 mm wide, panel 2 measures 99 mm and the front panel 1 is 100 mm wide.
You can use the guides in an application like InDesign to visualize this during the design of the document. Keep in mind that panel 2 is the back cover. The user first sees the front cover (panel 1) and then upon opening panel 3 so these two panels should have a matching or consistent style.
Z-fold
This is a 6-panel accordion fold. Each fold opens in the opposite direction to its neighbor, giving a pleated or concertina effect. All the panels have the same width.
Gate fold or window fold
With a gatefold the two outside panels 1 and 3 each fold towards the middle. They are slightly smaller than half of the sheet. For a 17" x 11" sheet, for example, panels 1 and 3 are 4.21875" wide while panel 2 is  8.5625" wide. For an A5 open size (210 x 148 mm) folded to an A6, panels 1 and 3 are 52 mm wide and panel 2 is 105 mm wide.
Double gate fold
This is a gatefold that is folded in two. Consult with the printer if you want to line up images that must go over the inside panels (1 and 4 in the example below).
Double parallel fold
Paper is folded in half and then half again. The inside panels are slightly smaller than the outside panels.
French fold or right angle fold or quarter fold
This is a combination of two half folds – The page is first folded in half horizontally and then again vertically. This folding scheme is commonly used for cards and typically has printing on only one side.
Roll fold or barrel fold or over-and-over
The paper is folded so that the panels roll in on each other, like a spiral. Panel 1 and 2 have the same size but then each subsequent panel gets a little smaller so that they can fit inside each other. For example: for an open 11" x 17" document panel 1 and 2 are 4.3125" wide, panel 3 is 4,21875" wide and panel 4 4.15625".
Accordion fold or zig-zag fold or fan fold
Each fold opens in the opposite direction to its neighbor, giving a pleated or concertina effect. Usually the panels have the same width although there are printers that recommend making the front cover panel slightly wider. This folding style cannot be machine inserted into envelopes
Collating and gathering
These processes involve placing (folded) sheets in the correct sequence. Collating refers to sorting individual sheets into sets. Many laser printers and copiers have a collating function. Gathering is a similar process but it involves folded signatures. Gathering machines have up to thirty slots or pockets in which signatures are fed manually or automatically. The machine then gathers the signatures into what is known as a book block. Such machines can also have a binding function, such as for instance a stitcher.
Binding
There are different ways of binding sheets together. Below are the most commonly used techniques:
Perfect binding: Pages are fixed to a cover or spine using glue. This process is used for paperback books, magazines, telephone guides,…
Saddle-stitching: Pages are bound by driving staples through the center of the spine of folded sheets. This wire binding technique is commonly used for magazines, newsletters, small catalogs,… but is limited in the number of pages that can be bound.
Side-stitching: This type of wire binding is less common than saddle-stitching. The staples are driven through the pages, usually parallel to the bind margin. Reports are often bound this way.
Thread sewing: A thread or cord is used to stitch a book block together. This is often done in conjunction with using an adhesive. Thread sewing is used for hardcover books. Afterward the book cover is attached using a technique called case binding. As with wire binding, there are two types of thread sewing: saddle-sewing and side-sewing.
Comb binding: The teeth of a plastic 'comb' are inserted into a series of slits drilled or punched into a stack of sheets. This process is often used for reports and presentations.
Spiral binding: A continuous wire or plastic coil is threaded through holes drilled or punched into a stack of sheets. Spiral binding is typically used for notebooks.
Loose-leaf binding: A set of holes is drilled in a stack of sheets which are then inserted into standard or customized ring binders or post binders. This binding technique is used for notebooks, presentations, financial reports, manuals or any other type of publication that require frequent updating.
Padding: the binding of a stack of sheets using a flexible adhesive so that the sheets can easily be removed. Notepads are a typical example of padding.
Decorative processes
Embossing and debossing
Embossing is the process of adding a relief image to a book cover or other printed material. Sometimes an ink or foil is used to accent the relief image. When the stamped image is left as is, this is called blind embossing. Debossing is the opposite, creating a sunken image on the substrate.
Foil stamping
Foils can be a real eyecatcher when applied to book or magazines covers. This is especially true for metallic foils which reflect light and add a silvery or golden glow. Such foils are applied using a pattern on a heated die that presses a roll of foil against the substrate. Adding the foil can be combined with embossing in a process called foil embossing.
Coating
There are different types of coatings that can be applied to printed matter. Some are water-based and take time to dry, others such as ultraviolet coatings dry when exposed to light or heat. The different types of coatings include:
Varnishes protect and also have a decorative purpose. Depending on the effect that needs to be achieved these can be high-gloss or matte coatings. Sometimes a varnish isn't applied to the entire surface but only used to make certain pictures, logos or text columns stand out. This is called a spot varnish.
Primers are used to improve the ink reception or to facilitate the application of another type of coating.
For packaging, barrier coatings improve the resistance to oxygen, water or chemicals.
Laminating
Laminating refers to bonding a separate material or layer of material to the printed matter. The most common type of laminating is sealing the print between two layers of a plastic material. A typical example of this are menu cards for restaurants which often need to be both sturdy and water-proof.
Edge staining
The edges of the pages of a book or catalog are sometimes colored to mark different sections. This is called edge staining. Gilding is a special case of edge staining in which gold leaf is applied to the edges of a book.
Converting
Converting refers to all of the finishing operations which transform a printed piece into another physical form. This includes bagmaking and boxmaking but more general processes such as bookbinding, waxing, coating, laminating, folding, gluing or die-cutting are also considered converting operations.
Other finishing operations
Die cutting
Irregularly shaped printed matter such as coasters or labels are cut out of the substrate in a process called diecutting. The die contains knives or creasing rules that have been prepared specifically for a certain shape.
Glueing
Products like envelopes, stamps or labels need to have a moistenable adhesive applied.
Indexing
Indexing refers to adding plastic index tabs or index thumb cuts to the edges of printed sheets. These can help readers locate specific information.
This list of the common American and European paper sizes includes the ISO standards, which are used globally. All dimensions are specified in inches, millimeters as well as PostScript points (1/72 inch, always rounded off). The overview covers:
ISO page sizes – The ISO A series is the most frequently used page measurement standard. It includes the DIN A4 format. The ISO B sizes are used for poster printing while ISO C is meant for envelopes. The SRA standard defines press sheet sizes and is used in the printing industry.
American paper size dimensions – such as 'Letter', 'Legal' and the ANSI series.
English sheet sizes – with a focus on formats for writing paper and book printing.
Newspaper sizes
ISO A paper sizes
The A-series consists of a logical set of paper sizes that are defined by the ISO 216 standard. The largest size (A0) measures one square meter. The height/width ratio remains constant (1:1.41) for all sizes. This means you get the A1 size by folding an A0 paper in two along its shortest side. Then fold the A1 size in two to get an A2 size paper, and so on… A-sizes are used to define the finished paper size in commercial printing: A4 is for office documents, A5 is for notepads and A6 is for postcards.
Millimeters

Inches

Points

Width

Height

Width

Height

Width

Height

A0

841

1189

33.11

46.81

2384

3370

A1

594

841

23.39

33.11

1684

2384

A2

420

594

16.54

23.39

1190

1684

A3

297

420

11.69

16.54

842

1190

A4

210

297

8.27

11.69

595

842

A5

148

210

5.83

8.27

420

595

A6

105

148

4.13

5.83

298

420

A7

74

105

2.91

4.13

210

298

A8

52

74

2.05

2.91

148

210
This drawing illustrates the principle behind the ISO A series: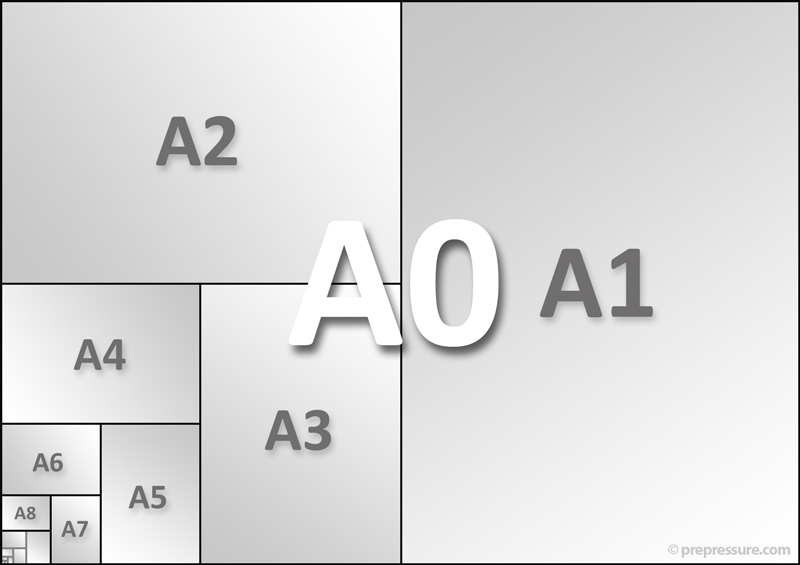 ISO B paper sizes
The same logic from the A-sizes also applies for the B-series, except here the starting point was the dimension of one of the sides, which starts at 1 meter. B-sizes are often used for posters.
Millimeters

Inches

Points

Width

Height

Width

Height

Width

Height

B0

1000

1414

39.37

55.67

2835

4008

B1

707

1000

27.83

39.37

2004

2835
B2

500

707

19.69

27.83

1417

2004

B3

353

500

13.90

19.69

1001

1417

B4

250

353

9.84

13.90

709

1001

B5

176

250

6.93

9.84

499

709

B6

125

176

4.92

6.93

354

499

B7

88

125

3.46

4.92

249

354

B8

62

88

2.44

3.46

176

249

B9

44

62

1.73

2.44

125

176

B10

31

44

1.22

1.73

88

125
ISO C paper sizes
C-sizes are used for envelopes to match the A-series paper. I have omitted unrealistic sizes like C0 (imagine an envelope measuring 917 by 1297 millimeters).
Millimeters

Inches

Points

Width

Height

Width

Height

Width

Height

C2

648

458

25.51

18.03

1837

578

C3

458

324

18.03

12.76

578

919

C4

324

229

12.76

9.02

919

649

C5

229

162

9.02

6.38

649

459

C6

162

114

6.38

4.49

459

323

ISO D paper sizes
I have no idea what D-sizes are used for but the standard is there so it should be mentioned.
Millimeters

Inches

Points

Width

Height

Width

Height

Width

Height

D0

1090

771

42.91

30.35

3090

2186
ISO RA & SRA paper sizes
These oversized papersizes are used by printers. The dimensions in millimetres are rounded to the nearest value.
Millimeters

Inches

Points

Width

Height

Width

Height

Width

Height

SRA0

1280

900

50.39

35.43

3628

2551

SRA1

900

640

35.43

25.20

2551

1814

SRA2

640

450

25.20

17.72

1814

1276

SRA3

450

320

17.72

12.60

1276

907

SRA4

320

225

12.60

8.86

907

638

RA0

1220

860

48.03

33.86

3458

2438

RA1

860

610

33.86

24.02

2438

1729

RA2

610

430

24.02

16.93

1729

1219
American paper sizes
The US and Canada do not use the international standards but instead rely on the paper sizes below. The ANSI standard was added in 1995 to create a set of sizes that are based on shared dimensions. It lacks however the consistent aspect ratio of the ISO A-series.
Millimeters

Inches

Points

Width

Height

Width

Height

Width

Height

Letter (ANSI A)

215.9

279.4

8.5

11

612

792

Legal

215.9

355.6

8.5

14

612

1008

Ledger (ANSI B)

279.4

431.8

11

17

792

1224

Tabloid (ANSI B)

431.8

279.4

17

11

1224

792

Executive

184.1

266.7

7.25

10.55

522

756

ANSI C

559

432

22

17

1584

1224

ANSI D

864

559

34

22

2448

1584

ANSI E

1118

864

44

34

3168

2448

English paper sizes (writing papers)
The English nowadays use the A-sizes for office and general use. I have no idea whether many of these definitions are still in use today. Imperial and half-imperial still seem to be widely used by artists.
Millimeters

Inches

Points

Width

Height

Width

Height

Width

Height

Foolscap

336

419

13.25

16.5

954

1188

Small Post

368

469

14.5

18.5

1044

1332

Sheet and 1/3 cap

336

588

13.25

22

954

1584

Sheet and 1/2 cap

336

628

13.25

24.75

954

1782

Demy

394

507

15.5

20

1116

1440

Large Post

419

533

16.5

21

1188

1512

Small medium

444

558

17.5

22

1260

1584

Medium

457

584

18

23

1296

1656

Small Royal

482

609

19

24

1368

1728

Royal

507

634

20

25

1440

1800

Imperial

559

761

22

30

1584

2160
UK metric book printing sizes
For books A-sizes often aren't used because A4 is too large and A5 too small. Metric Royal Octavo and Metric Crown Quarto are 2 frequently used sizes that are more comfortable to hold and read.
Millimeters

Inches

Points

Width

Height

Width

Height

Width

Height

Metric Crown Quarto

189

246

7 7/16

9 11/16

536

697

Metric Crown Octavo

123

186

4 13/16

7 5/16

349

527

Metric Large Crown Quarto

201

258

7 7/8

10 3/16

570

731

Metric Large Crown Octavo

129

198

5 1/16

7 13/16

366

561

Metric Demy Quarto

219

276

8 5/8

10 7/8

621

782

Metric Demy Octavo

138

216

5 7/16

8 1/2

391

612

Metric Royal Quarto

237

312

9 5/16

12 1/4

672

884

Metric Royal Octavo

129

198

5 1/16

7 13/16

366

561

Newspaper sizes
The dimensions of newspaper pages are not that strictly defined, so the average or most frequently used size is mentioned.
Millimeters

Inches

Points

Width

Height

Width

Height

Width

Height

Berliner or Midi
Broadsheet
Compact or Tabloid
Rhenish
 

± 

13.97
 

± 

20.47
Other sources of information
There are a number of other web sites that list paper sizes and their use. Check them out if you need a second opinion